The Info menu is a useful way to view your current status.
The first tab describes things like your current level, amount of gold and stars and gold keys you have, space on your flotia vs space used, and available favors
The second tab is the favor tab. It shows not only the favors you've requested, but favors friends have requested and their percent complete.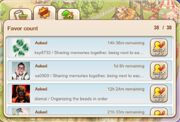 The final tab is the island tab. It displays islands owned and the buildings, decorations, and plants occupying the islands and their levels.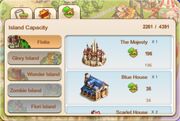 Ad blocker interference detected!
Wikia is a free-to-use site that makes money from advertising. We have a modified experience for viewers using ad blockers

Wikia is not accessible if you've made further modifications. Remove the custom ad blocker rule(s) and the page will load as expected.